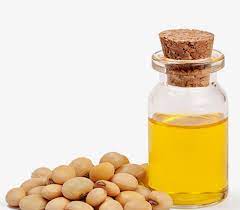 Soybean is the most popular vegetable oil crop grown all over the world. Plant-based Soy oil extracted from Soybean is commonly used in processing mayonnaise, salad dressing, margarine, and non-dairy creamers. Nowadays, Soya is a popular plant-based meat alternative, and soybean oil is extensively used in the preparation of tofu, soy milk, soy sauce, and other similar products. Choosing the right type of soybean oil is essential, and among the various options only organic or cold-pressed are considered the best.
Cold-pressed oil is an unfiltered oil, also known as virgin oil which is purer. It is a method of oil extraction where oil is obtained naturally by crushing oilseeds at room temperature. There is no extra heat and chemicals required, only pressure is needed which makes it the healthiest variant of oil available to the consumers. That's why cold-pressed soybean oil has more nutrition than refined oil in which during the refining process, the nutritional benefits are lost.
Cold-pressed soybean oil has several wonderful health benefits which makes it an excellent option to consider for everyday cooking including frying, roasting, baking, and sautéing. These days this vegetable oil is not just used in the kitchen but also used commercially in the manufacturing of many products across a wide range of industries. The Health benefits of soybean oil are-
It consists of polyunsaturated fatty acids which can assist in lowering the bad cholesterol level (LDL) that is a major cause of heart disease.
It has very high levels of vitamin K which helps in maintaining strong and healthy bones. It also helps in stimulating brain development and prevents osteoporosis.
Soybean oil contains omega-3 fatty acids that have several health benefits related to heart health, brain function, fetal development, and play a major role in preventing chronic diseases like diabetes.
It is extremely rich in vitamin E content which is an anti-inflammatory nutrient that helps to protect skin cell membranes from damage, infections, and skin conditions such as acne. Most skincare products have this vegetable oil as a primary ingredient.
To reap the benefits and nutrients of soybean oil, you need to be assured that it is cold-pressed and not refined. The quality of the oil depends on the cold pressed soybean oil manufacturer you choose. Madhya Pradesh, Maharashtra, Rajasthan, Karnataka, and Telangana are the major producers of soybean. Due to the easy availability of soybean seeds to extract soybean oil, there are many manufacturers of cold pressed soybean oil in Dhule, Maharashtra. You must find a trustworthy cold pressed soybean oil manufacturer in Dhule who can offer high-quality products in the market.
The producers of cold-pressed soybean oil should take care of the following aspects-
They should work with state-of-the-art facilities and advanced manufacturing services to deliver only safe and top-quality oil.
They should process the soybean in a hygienic environment under the supervision of deft professionals.
They should manufacture soybean oil without the use of heat treatment and other harmful chemicals. Only traditional methods of extraction should be used to keep the nutrients intact.
They should use high-quality packing material to pack the oil to avoid the chances of spillage during transit.
The producers of cold pressed soybean oil should be competent enough to meet the bulk requirements of the marketplace.
They should offer their soybean oil at customized packaging and price it by the rates prevailing in the market.
Conclusion
Therefore, it can be concluded that cold pressed soybean oil is one of the common household products which is not only cheap but also healthy. Adding this vegetable oil to your diet will keep you fit.